The Red Cube…LIVES!
November 8th, 2016
Multiplayer hosts and Scatterjamming
SmuggleCraft Updates!
Online Multiplayer has been making huge strides thanks to our amazing programmer Joey. Getting a computer to host a session was pretty brain bending, but Joey managed to get the ball rolling (literally) from having a 3ish second lag to a little under a second in a day! He's also been hard at work giving the SmuggleCraft AI some upgrades! Not only are they smarter now, but also A LOT faster and more skilled in the art of smuggling. Joey himself had a hard time besting them in some races!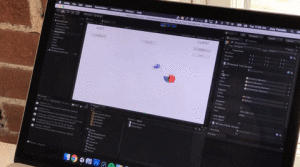 Track pieces grow more and more gorgeous with every day. Since we've got the main track piece and its colors done, TJ has been adding  new ship upgrades and foliage for smugglers to race by and Dana has been adding Dirahlian buildings, as well as creating even more new track pieces.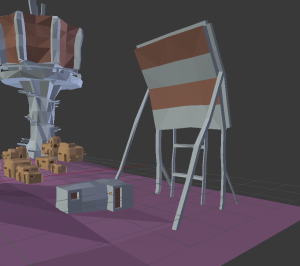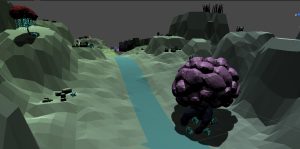 We've also been prepping for a big event we are attending later this year, so lots of focus has been on that. We can't say too much on that, but more news to come very soon!
STLScatterJam!!!
Joey, TJ, and Richard all participated and made games in this year's Scatterjam (Shoutout to the STL Game Dev Co-Op, Discord, and the Zoo for making it happen!)! For those who aren't familiar, a Scatterjam is a game jam, but without a single dedicated space to work in! Groups are allowed to scatter and make games where ever they pleased! This years Scatterjam theme was "Open to Your Interpretation". Joey and TJ with their team Hydrozoa Bois made Trash Night, where you dodge incoming trash and a giant Soda Can Monster, and Richard with his team Watchpoint made Escape?, an obscure platformer about discovery and destruction!
Shoutout to all the teams that participated this year! You can play all the Scatterjam games here: https://itch.io/jam/stlscatterjam2016/entries
VLOG